Posted by brett@themendico.com BigCommerce on 31st Jul 2020
Lacrosse is having an epic summer, basketball is back in the Wubble, and our NWSL soccer teams were the first league to play live sports in the U.S. bringing us joy during a lengthy hiatus from competition. We've compiled an in-progress recap and where-to-watch guide with highlights, wins, and reasons to celebrate what our amazing team of Mendi athletes are doing both on and off the field this summer.
THE PREMIER LACROSSE LEAGUE PUTS ON A SHOW
Last night's thriller between the Archers and Chrome went into sudden death overtime. In just the final seconds of regulation Tom Schrieber tied it up to send it to OT and on the first posession, Grant Ament pulled off a wicked no-look pass to Ryan Ambler who magically caught it off his hip confusing the defense and put it away for the win. Fans were left scratching their head as the play faked out even the camera crew. Check out the crazy angle on what has got to be a SportsCenter Top 10.
To see how our four Lacrosse Athletes are using Mendi to recover during a grueling compressed championship tournament, check out their recovery profiles here.
---
WHERE TO WATCH MENDI LACROSSE ACTION
NBC Sports Gold airs through August 8th
NBC airs the Championship Game airs August 9th at 12:30pm ET
---
SUE BIRD RETURNS AND MENDI'S NEW STAR NNEKA OGWUMIKE PLAY KICK THE BASKETBALL SEASON OFF
WNBA legend and Mendi Athlete Sue Bird made her big return for the Seattle Storm on 7/25 against the New York Liberty and rookie sensation Sabrina Ionescu. With teammate Breanna Stewart back as well this season adding versatility, height and offensive firepower to the Storm's lineup, Sue and her teammates are predicted as top contenders for this season's title. There's still a long way to go this season, they're starting to click and showcasing an impressive start to the season.
This week we were excited to announce Nneka Ogwumike as our second basketball athlete to the Mendi Crew. As WNBA Player's Association President, 2016 Champ and MVP she has a sense for excellence in everything she does. Playing Forward for the LA Sparks, she's starting her 2020 season on fire leading her team in points per game (16), defensive rebounds (5) and getting close to her record-shattering shooting efficiency with an unheard of 71.4% field goal percentage!
GET TO KNOW NNEKA
To see how our Basketball Athletes recover with Mendi check out their recovery game plans.
---
WHERE TO WATCH MENDI BASKETBALL ACTION
---
THE NWSL PAVES THE WAY FOR SPORTS BIG COMEBACK AS FIRST LEAGUE TO PLAY
This past Sunday the NWSL Challenge Cup Final between the Chicago Red Stars and Houston Dash drew the league's most watch game ever with and average of 653,000 fans tuning in on CBS. Recap the highlights of the championship game and make sure to check out Mendi's support on the sidelines. While we were sad to not be their in person in support of the league and our two teams the North Carolina Courage and Utah Royals we are excited about the growth with coverage and will be helping these two teams recover after a condensed season of play.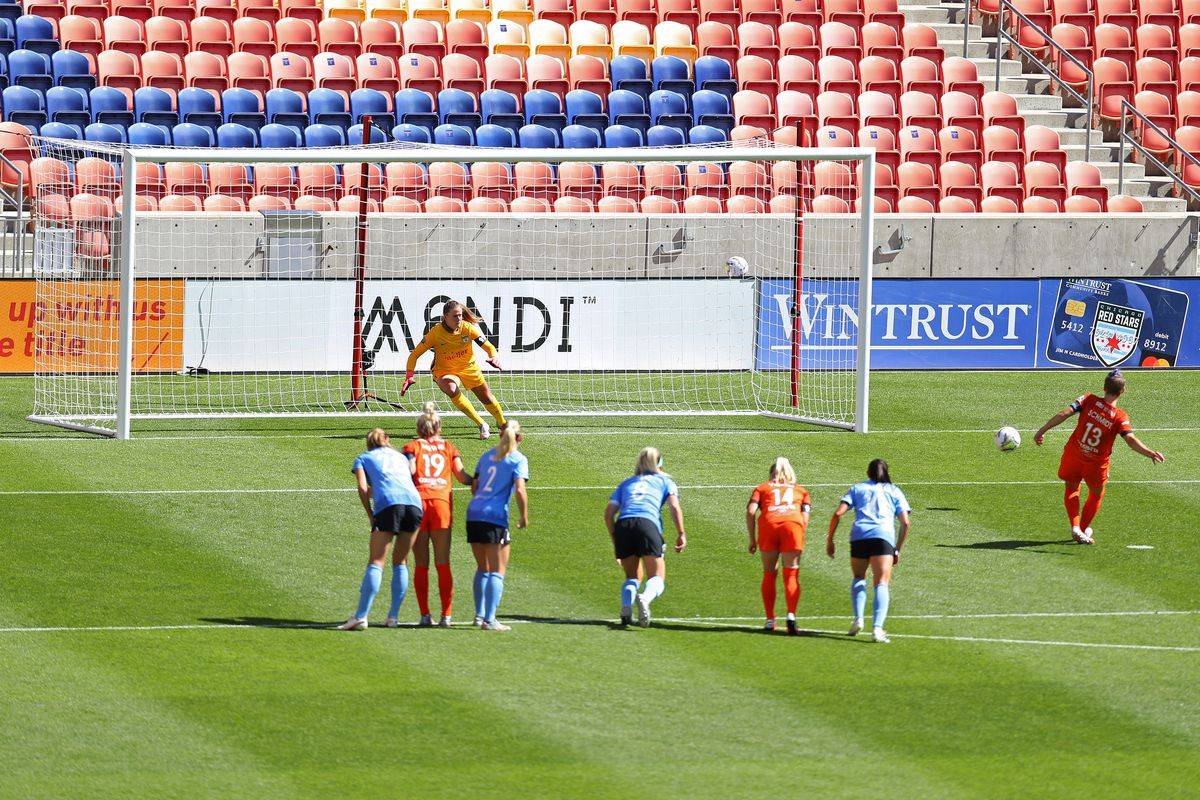 Photo by Maddie Meyer/Getty Images