With this weekend being the intended start of the NWSL season, though it is now on hold until at least May, we thought we'd take a look at the past, present and future of the NWSL from a veteran player's point of view after 8 years.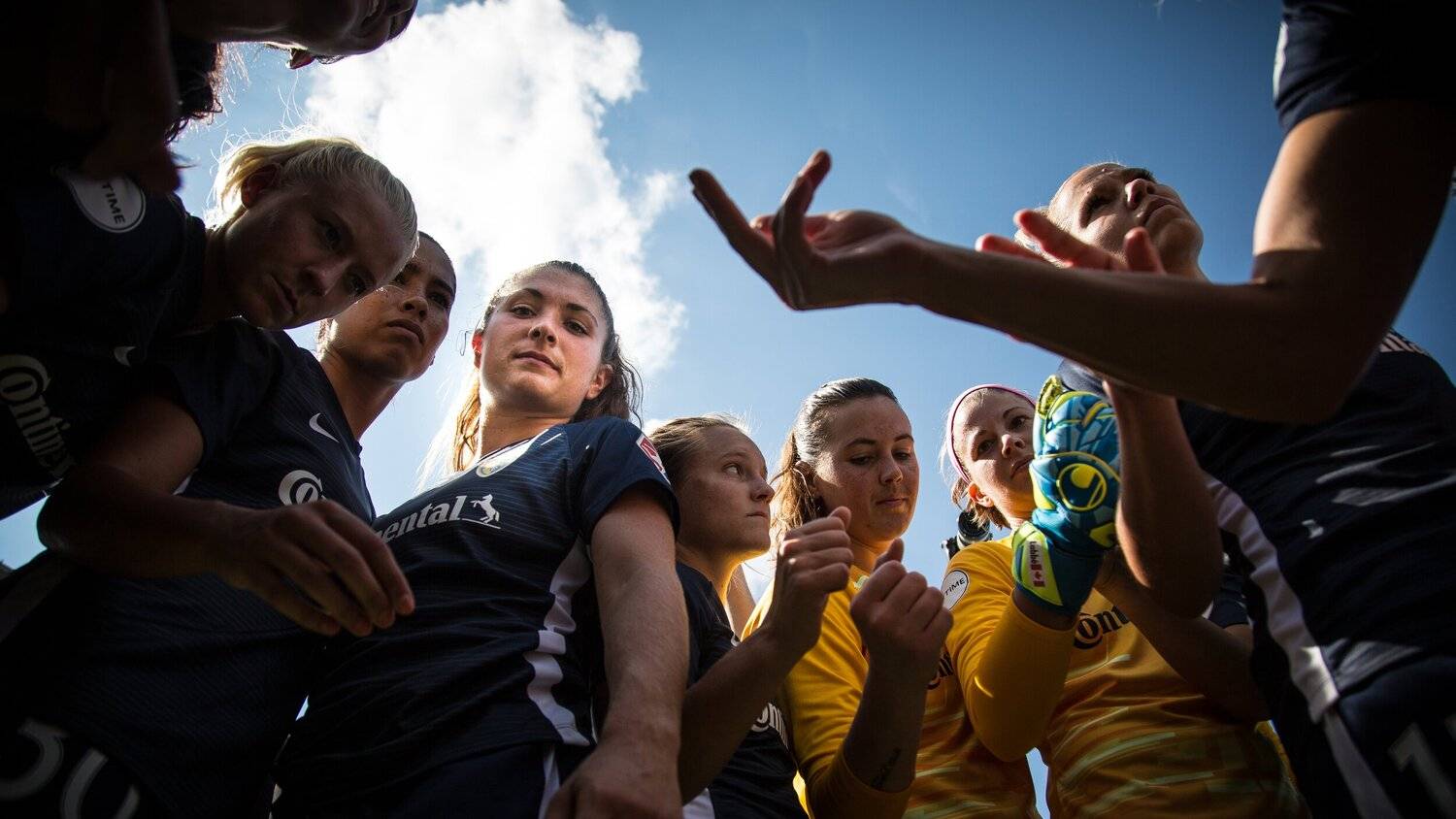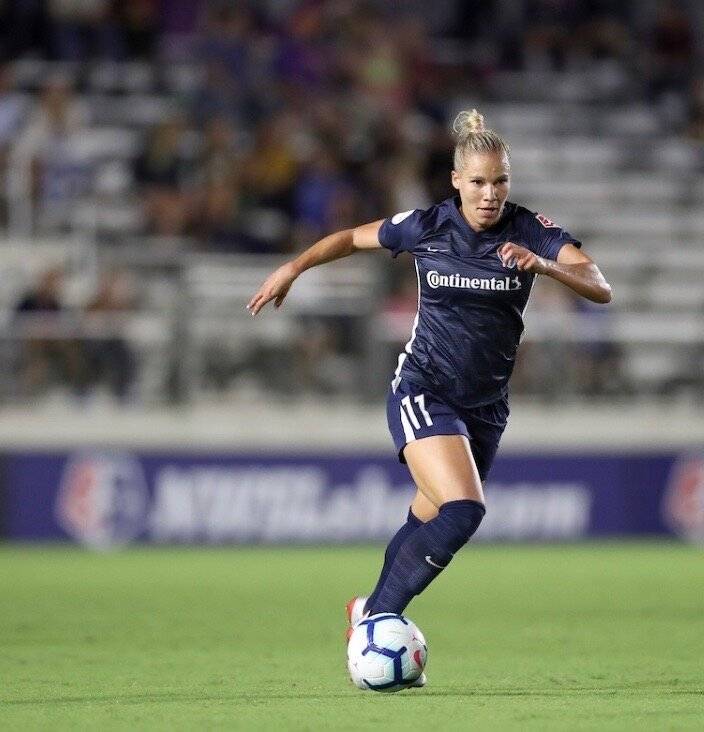 An eight-year league vet and three-time NWSL champ, Merritt has played on three different NWSL teams since its formation. Currently, Merritt is recovering from a season-ending ACL injury and incorporating Mendi into her daily routine. She aims to get back in shape to defend the title and compete for a league-first three-peat with the North Carolina Courage. We asked her to share a player's POV on the state of the league. Here's what she had to say:
It's 2012, I've just left school and achieved my lifelong dream of becoming a pro athlete in the Women's Professional Soccer League. But one of the best moments of my life quickly becomes a nightmare as I receive an email less than a week after making a team in Philly: the league was folding. Effective immediately.
As much of a shock as it was to me personally, it really wasn't a huge surprise. After all, this was the second iteration of a women's pro league. The first came about a year after the legendary 1999 US Women's World Cup victory. This first league rode the momentum of the '99-ers success, but folded after 3 seasons due to revenue issues.
Here we were again. But this time it was my own dream crashing down.
Fast forward to 2013, as hope for the women's game swelled on the heels of the USA women's team 2012 Olympic Gold. A new league, the NWSL—National Women's Soccer League—formed. In its inaugural year, there were seven teams, a draft took place and I was headed to Kansas City. Finally, for all my hard work and dedication growing up in the national team system since age 14, I had a real opportunity to play professionally.
GROWTH OF THE LEAGUE
During those first few years in the NWSL, I think all of us were just so thrilled to be playing the game we loved. Especially as a young player I was just grateful to compete and was holding my breath to see if the NWSL could survive what felt like the three-year curse.
In our excitement, we all overlooked so many things that should have been unacceptable. And, I mean, when I say it was bad: it was bad. Everything from the practice facilities, locker rooms, playing fields and accommodations were very poor quality. I think the minimum salary at the time was $8,000 for a six-month-long season—well below minimum wage. We were allotted two practice jerseys we had to wash on our own daily.
Now, eight years later, some things have changed and others haven't. As a player, I have started 100+ matches, I have played 10,000+ minutes, I am a three-time NWSL champ, three-time NWSL Shield winner. I have played and been a part of some of the best teams in the league including Kansas City, Seattle and North Carolina. I've been called into USWNT camps and received a cap at an international level. The league has also grown in visibility and attendance. Last year the NC Courage played the Thorns in Portland and set the single-game attendance record with more than 25,000 fans.
We also have finally secured year-round housing for the first time. I have personally moved in and out of apartments 14 times. Each time, I've had to worry about moving out, storage and finding a new place to live in the midst of playoffs—including having to fly home immediately after winning the NWSL Championship to move out of the team facility the next day.
I am still paid well below my value, along with my peers. Eight years in, we're finally implementing a Players Association and beginning a Collective Bargaining Agreement. The salary minimum has gone up 21% this year to $20,000 with a league maximum of $50,000 for the top players.
A COMPLICATED RELATIONSHIP
It's great the NWSL has avoided the fate of the previous two leagues. A big reason is due to US Soccer stepping in and overseeing the league and financially supported it. We are all aware this league wouldn't exist without their support. But, while US Soccer helped the league begin, it has felt like the federation merely tolerates the league instead of nurturing the relationship.
The recent statements made by US Soccer about the three-time World Cup champs are so much worse than many people realize. If they believe the USWNT—the players whose pay they subsidize—is inherently less than, what does that say about the entire women's professional league, which they also oversee?
The USWNT will always be the pinnacle for US Women's Soccer. And their success trickles down to all of us. But there is and always will be only a handful of spots. Therefore, opportunity for growth is at the league level. There are currently nine teams in the league—compared to the 26 MLS teams—and with the proper investment, we have the potential to more than double in size.
This country has the best talent in the world and one of the most competitive Leagues in the world. Most of the best international players come to the NWSL to compete.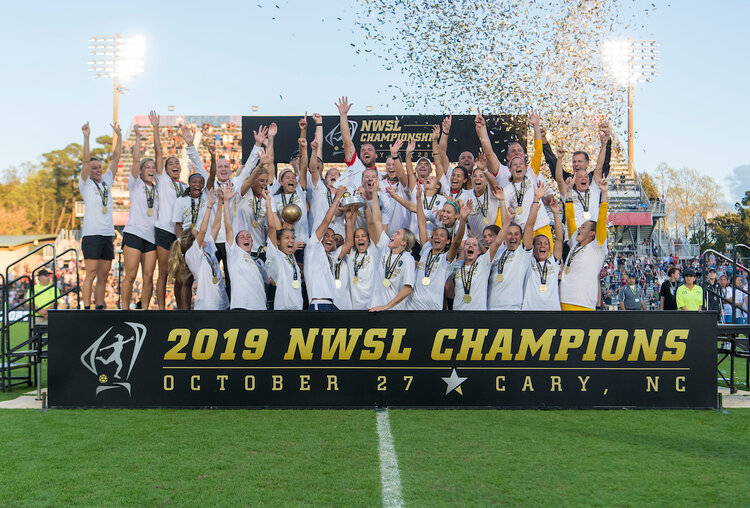 It is necessary for the NWSL to exist independently, just like the MLS. That will require outside investment in the league and players, building an infrastructure that can stand the test of time and growing visibility. The league to-date has had limited visibility on TV and in the urban core of cities, where historically sports teams have thrived. Turn on the TV and you're more likely to see a cornhole competition than the best female soccer players in the world going head-to-head.
Still, there are seeds of progress. ESPN and the NWSL made a deal to broadcast 14 games live in 2019; Budweiser has become a league sponsor and launched a campaign to encourage other brands to make an investment as well; Portland has stood out as a model for success, combining a great location in an energizing city partnering with an MLS team. It's no surprise their investment in a great experience for fans of all ages and backgrounds has resulted in unprecedented attendance and team support.
None of us take any of this for granted—how could we?! We're still so grateful to be playing the game we love. But we also know the time is now to advocate for ourselves.
It's 2020. Our back-to-back World Cup champs are fighting a legal battle with US Soccer; the WNBA just negotiated a new CBA, charting a course for success; women in sports are more visible than ever; and the NWSL is making progress. However, we can't keep inching along. It's time for a big leap forward.
I hope the silver lining of the US Soccer catastrophe is to finally unveil the undertones of discrimination that have existed for years. Every woman playing with the crest on their chest as well as in the NWSL has felt this. The appointment of Cindy Cone as US Soccer President is huge. She is a badass; she is one of us, having played for club and country; she coached in the NWSL and understands what this fight is truly about.
And, there are other female leaders joining the ranks, including a new league commissioner who's ready to take action.
Eight years in and I'm in my prime. I love what I do. I want this league to succeed in a big way. I can't settle. We can't settle. It's time for businesses, leaders, allies, players and fans alike to stand up, speak out and put their money where their mouth is.
More on the state of the league from US Soccer Stars: