Mendi's all-natural CBD is formulated to meet specific needs of pro athletes and weekend warriors alike. This is why we've created kits targeting the 3 most common benefits of CBD: Pain & Inflammation, Mood, and Sleep. Keep reading to learn more about how CBD interacts with the body to deliver powerful recovery, and the nitty gritty on what's in these kits.
THE SCIENCE
Let's take a look at what we know about CBD and inflammation.
Sometimes an inflammatory response is over-triggered, causing chronic inflammation that attacks your healthy tissue and causes a lot of pain long term (ex. rheumatoid arthritis)

There is also acute inflammation which can occur following an injury, infection, or illness where you may notice pain, swelling, redness, and heat as symptoms.

Recently inflammation has been treated with anti-inflammatory drugs (NSAIDs) such as Ibuprofen (or Advil), Aspirin and Aleve, and steroid medications such as Prednisolone.

But a number of studies in the past 10 years suggest that CBD's ability to inhibit an enzyme called COX2 (something that medicines like Advil or Aspirin also target), can make CBD an effective tool in suppressing inflammatory responses.
Let's dive into what we know about CBD and the Mind.
The key to CBD's effect on mood is believed to be linked to serotonin, a neurotransmitter that helps manage your mood and regulate anxiety.

It is known that many common antidepressants work by acting on serotonin receptors in the brain.

Studies show CBD also binds to the receptor that triggers serotonin release, this activation in turn helps balance mood, anxiety and stress responses.

Currently there is only one FDA‑approved prescription cannabidiol, EPIDIOLEX, used for certain neurological conditions like epilepsy. But both science and anecdotal evidence point to the potential of CBD as an effective treatment for many other neuro-related conditions.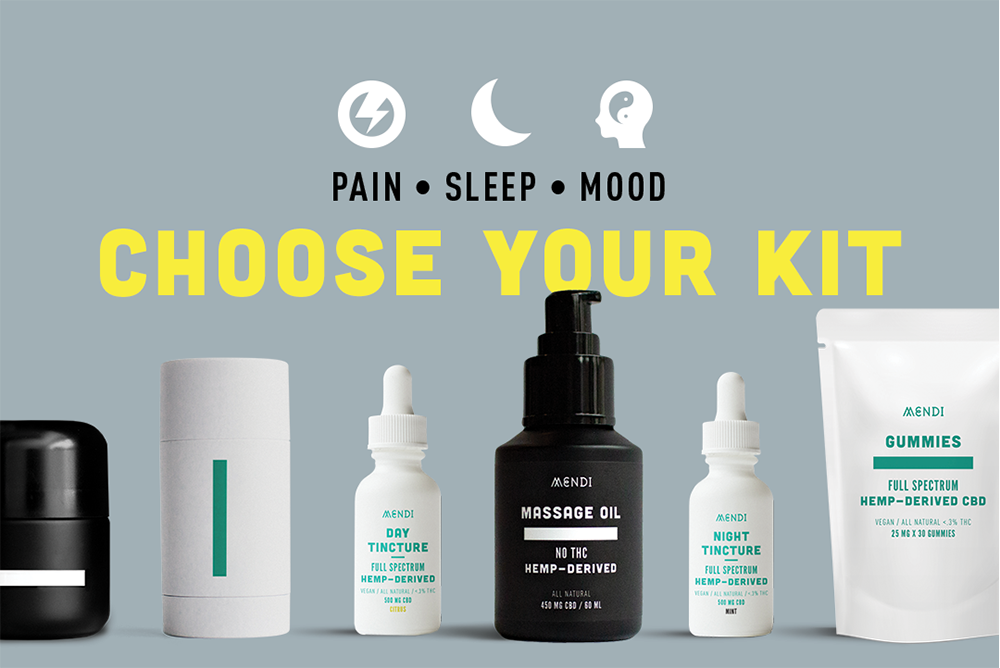 BENEFIT KITS
Each kit is formulated to provide you with powerful, targeted, and lasting relief. Each contains three products that work best when used in tandem, and consistently.
Our Pain Kit is supercharged to reduce pain and inflammation with all-natural ingredients. Our Cream is great for localized pain, while our Day Tincture and Gel Caps work in tandem to fight inflammation and more generalized pain.
Our Mood Kit was formulated to help pro athletes and weekend warriors alike balance their mood and stay relaxed throughout the day. The Kit includes our Gummies, Day Tincture, and the ultimate relaxation tool: Bath Salts.
Our Sleep Pack contains our Night Tincture, Massage Oil, and Gel Caps, each geared to help you unwind, reduce pain and inflammation, and maintain a restful night's sleep.
Reviews are in! Here's what some of our Mendi fam has been saying about their Benefit Kits.
PAIN
"Love this cream. It helps sore muscles and the price is perfect."
- Patricia D.
"The full spectrum CBD cream has helped my legs calm down on the worst nights of my restless leg syndrome. I will never be able to fully show my appreciation for this product and the people that created it. Thank you so much!!"
- Rachel G.
MOOD
"Mendi's full spectrum gummies are a go to for me. I usually have one mid morning and then mid afternoon just go get me through the day! The taste is great and makes me feel like I'm getting a "treat!" Being a retired soccer player, I have the great aches and pains of any collegiate or pro athlete. Without Mendi's products I don't know how I would survive the day! I always buy two big bags because you can never have enough!"
- Heather B.
"Best Bath Salts I've Ever Tried! They smell great, have a great texture, look great, and best of all are EFFECTIVE! I look forward to me time in the bath with these salts and glass of wine. I would highly recommend to bath lovers, or someone looking to try something new."
- Maria F.
SLEEP
"I could bathe in the Massage Oil. This is my third bottle and we can't get enough. A great daily ritual before and after any workout. Also helps for those long work days in front of the computer when my neck and back get a little tight."
"This Night Tincture really works! As I come off of prescription sleeping meds, this night tincture has made it stress/anxiety free. I find I relax and fall asleep so much easier than with any other prescription assistance. I strongly recommend giving it a try"
- Betsey H.