Trevor Baptiste was a breakout star in the PLL's inaugural season. Now he's keeping his foot on the pedal, and advocating for diversity in the sport while he's at it.
trevor baptiste was a breakout star in the pll's inaugural season. now he's keeping his foot on the pedal, and advocating for diversity in the sport while he's at it.
Trevor's mantra is Learn, Adapt, Excel. In order to make the most of his opportunities on and off the field, he turns to his Mendi gummies to keep him in the zone mentally and physically.
Trevor's mantra is Learn, Adapt, Excel. In order to make the most of his opportunities on and off the field, he turns to his Mendi gummies to keep him in the zone mentally and physically.
atlas face off specialist
After using cbd, seeing all the benefits that I felt, it's a no brainer.

Trevor we are so glad to have you on the team as a part of Mendi's partnership with the Premier Lacrosse League. You're known as the Face Off King and you carry the same intensity off the field and put it into being an advocate for diversity within the sport of lacrosse. We are excited to sit down and learn more about you. Let's dive in.
Do you think it's still taboo for athletes to team up with a cannabis brand or is it becoming more accepted?

I don't. I think that as the studies and data comes out, it shows that CBD is a very viable option for recovery. So I think it's important that athletes are looking into CBD and other forms of recovery, so they're always at their best.
What would you like to tell other athletes in your sport or outside of your sport about using CBD/cannabis as a recovery tool?
I guess I kind of went into it thinking it's definitely worth a try. And there's a lot of positive data about it, so I might as well give it a go. After using it and and using especially the Mendi brand, seeing all the benefits that I directly felt from it, it just seems like a no brainer. It's very non-invasive. It's gummies that taste great, creams and tinctures, and it's just easy. And I feel so much relief from it.

ON leveling the playing field
You're one of the biggest faces of the PLL, yet your mantra remains - learn, adapt, excel. Where does this come from?
Humbly, I've been able to to have success on many levels of lacrosse, and I just feel like there's always room for improvement even when you feel like you have your best game. And especially when you're having a lot of success, a lot of people try to figure out how to expose your weaknesses. So I know that there's there's always room for improvement and learning. Adapting and excelling is always something that I'm trying to do, no matter how great things are or how bad things are.
Let's talk a little bit about the history of the lack of diversity in lacrosse. What drew you to this sport? What was one of the motivating factors when you first started playing?
Although lacrosse is something that I love and something that I've dedicated my life to, it is a sport that lacks a lot of diversity. I started because I played football and a lot of my friends that I played football with, played lacrosse in the spring. I never really knew what the sport was, gave it a shot, and I was pretty bad when I started out

But it was always one of those sports that I just enjoyed playing, throwing the ball around in my backyard and just messing around with it. It's always something that I had fun with, and then as I started to get better, that enjoyment of the game stayed the same if not increased. And that's what propelled me to continue to play in high school, college and and now professionally.
Representation is so important, across all industries, and especially in sports. Representation plays a significant role in shaping the perceptions of our societies, thus individuals. Do you feel a sense of responsibility to help diversify your sport?
I feel extremely obligated to make the sport of lacrosse more diverse. You know, it's such a great game. And if you really take the time to watch a game for for what it is, it has action and excitement and physicality. It's fast. And it's something that everybody should be a part of. It originated from the Native Americans and they played it as the Creator's game. I just feel so fortunate that I've had the opportunity to play lacrosse. It's a gift. And I want to give that to as many people as possible, especially people that look like me.
What legacy do you hope to leave both as an athlete and advocate?
I don't know if I'd necessarily say my on-field accolades or anything like that, although that's great. Being at the top of the game is something that I pride myself in for sure. But being well respected is something that that I would say as an athlete and as an advocate of the game I'd like to be remembered for. Someone that is well respected on the field, off the field, and who's going to shoot you straight and just be real with you. Whether you are my teammate or competitor, you know I'm going to play my hardest every time I get out on the field.
athlete health and recovery
What are some specific recovery regimens that have led to your lacrosse success?
I would say adding recovery into my regimen. I think when I was younger in high school and even in college playing D1. You have a whole athletic training staff that's telling you what you need to do. And and I was always just the type of person that just went to the gym, went as hard as I could for as long as I could, and I didn't really take a lot of time to stretch and to take care of my body. And and now adding in all of these things like Mendi products, recovery aides in terms of Hyperice and NormaTec, and just doing mobility work has helped lead to my success professionally.
What are some things better recovery allows you to do besides just perform at the highest level?
It's allowed me to not only feel great, like in terms of myself physically, but also mentally. There's a lot that has to do with stretching, mobility and even the neuro side of things that keeps you at peace and at rest and feeling good about playing and feeling ready to go when when opening whistle blows. Recovery has done a great deal to to help me perform to my highest level.
Who are some of your unsung heroes?
Both my parents. They've done so much to give me the opportunity to follow my my goals and dreams, to play pro lacrosse. And also, they really taught me what dedication looks like and what hard work looks like, and the results from it and the success you can have by just putting it all into something.
What's one thing not shown in your stats and awards that you want to be associated with your legacy?
I would say being a great teammate. That's something that doesn't come up on the stat sheet, but is something that I take a lot of pride in. And obviously, I think it's it's extremely important, not only from the moral side of things, but being a great teammate helps your team win. It helps you get success and it helps you form longterm relationships and make the memories that I could carry when I'm done playing.
What generalization do fans get wrong about pro lacrosse players?
That we're all "Chads". I would say that's that's definitely number one. And I know that's that's hot on the Internet these days, but, yeah, that's not true. And I think that reputation about the sport which needs to change. I think if you really get to know 99% of the guys that played professional lacrosse, you realize the guys that have the most success don't fit that stereotype.

And I think that really, if you get down to the to the roots of the game, it's the Creator's game. And it was brought to us by the Native Americans. So the whole idea just goes against the roots of the game, really, and the reason why we play since its creation.
jules' recovery gameplan
Learn more about this PLL Standout's recovery game plan. Jules breaks down his daily Mendi routine for us.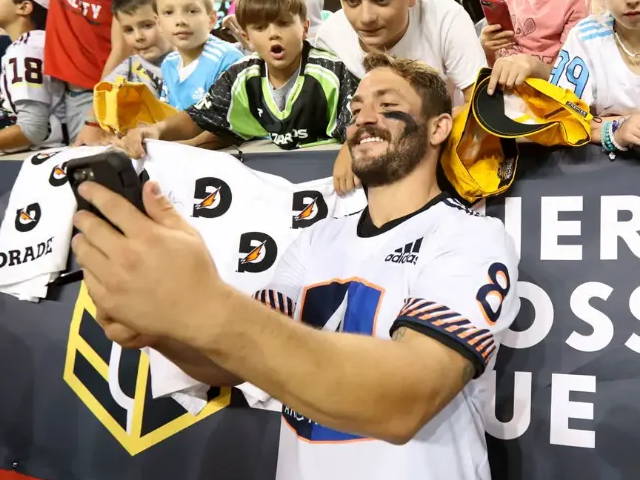 Where to watch the summer of sport
Catch up on the latest action as the NWSL, PLL, WNBA and more return.