Jules Heningburg has been a star for the PLL Redwoods since his 2019 debut. But his goal is much bigger than the stat sheets. Jules is bringing new conversations and representation to the game with the formation of the black lacrosse alliance. Learn more about jules below.
jules heningburg has been a star for the pll redwoods since his 2019 debut. but his goal is much bigger than the stat sheets. jules is bringing new conversations and representation to the game with the formation of the black lacrosse alliance. learn more about jules below.
jules' mvp for tough training days

Late night games and training sessions can be hard to wind down from, especially for a team captain who's pushing her mind and body to the limit for her team. Abby relies on Mendi Gel caps to promote longer, better sleep for a brighter tomorrow.
To combat the physical and mental challenges of his sport and attacking position, Jules incorporates Mendi Gummies in his day and night routine for pain relief and a better night's sleep.
the lack of diversity in lacrosse has a direct correlation to larger issues in this country.

Jules we are so proud to have you joining the Mendi team as a part of Mendi's partnership with the Premier Lacrosse League. You've been a leader on and off the field in some big ways, including the formation of the Black Lacrosse Alliance. Thanks for talking with us, we're eager to learn more about your story.
Do you think it's still taboo for athletes to team up with a cannabis brand or is it becoming more accepted?

I definitely think it's becoming more accepted. I think there's been a huge shift with how the national conversation has been changing and how states are starting to legalize cannabis in general. And I think that's allowing brands like Mendi to really come into this space specifically with athletes to improve inflammation and what it does for your mental game, like reducing anxiety and stress.

And I think the more that states start to legalize it, it's going to become less taboo. And brands like Mendi who use CBD will be able to continue to grow and and increase the awareness to what it can really do for your body.
Given the status quo of CBD being a banned substance in most professional sports leagues, the PLL has shown far more progress than most. Do you have anything to say to other professional leagues or teams who still stigmatize cannabis use for athletes?
Definitely. I would say that it's pretty outright absurd the types of drugs that they try to give athletes to help cope with anxiety, with injuries and what we see that continuously do to our bodies and our minds. The fact that that this stuff is allowed to go on, but CBD is not allowed, I think it's preposterous.
What would you like to tell other athletes in your sport or outside of your sport about using CBD/cannabis as a recovery tool?
I would like to tell other athletes that I believe in CBD and the ability it has to impact your body in a way that doesn't hurt us. There are other things out there that athletes use right now to cope with stress, to cope with injuries that is directly harming us. CBD has no negative side effects. And it's really a miss that more athletes don't understand what it can do for you and the long term effects of those other things on your body. And I believe that companies like Mendi have an ability to market and show the true positives of CBD. This is going to be huge for athletes long term.

ON leveling the playing field
You wrote a beautiful article in US Lacrosse Magazine on racial identity. You shared with the world that it has been a difficult journey for you at times to be fully accepted by the white lacrosse community or the black community. Was writing that article liberating for you? How has the response been by the lacrosse family and beyond?
Well, first of all, I just want to say thank you. It's been a little bit of time since I've written it and definitely some things have changed in our community and the conversations that people have been able to have with me. And it was absolutely liberating because it allowed me to express to people about my identity in a way that I never had been able to before. I don't think people need to prove who they are in their identities. But I do think people seeing the truth of who you are and really who you're proud to be is important for your own peace of mind.

And that was something that weighed on my shoulders for a very long time, specifically in lacrosse and the circles that I was in, in lacrosse, it being a predominantly white sport. I never felt like I needed to go out of my way to explain that to the public. But it was definitely conversations I had behind the scenes with teammates.

So, the response has been overwhelmingly positive. I think there's a lot of growing to do, a lot a lot of growing both in lacrosse and in our country. And I think that if we can continue to have the conversations and create actionable things to push the conversation forward, we're going to see lacrosse grow in the right direction.
What was the journey like forming the Black Lacrosse Alliance and what is your vision for that coalition?
I think it was a natural progression for us as athletes in the PLL. We definitely have the most black players playing at the professional level ever, right now. When everything started to happen, we were naturally going to have a conversation about it because it was so pressing and such an important time in our country. That first conversation we had was really the formation of the Black Lacrosse Alliance. As we continue to have the conversations and flesh out what we're going to do and how I was going to open up about my story and what that was going to be able to do for everyone else. It allowed us to grow together and grow a bond that perhaps I don't think has ever been seen in pro lacrosse before. And it definitely allowed us to become more comfortable in our own skin and more confident in the message that we're trying to send.
Really our first hope is to bring pro lacrosse together, which I think we hit the ball out of the park. From there, we recognized the younger generation has never had black and brown athletes to look up to in a way they do in other sports. And ultimately, that leaves the game in a place where you don't continue to see these players stick with it because they don't see themselves at the highest level. So we definitely want to be a beacon of hope for those young players, so they see there are players like them and there is no ceiling in the sport for them.

We also want to connect to the NCAA and high school athletes. Lacrosse is a small sport right now. We want to take advantage of this fact and grow our community. These players know ultimately we're there for them and we're going to continue to create initiatives around them that help them connect with each other because that's so important. That's something we did not have in college. If something was happening at Loyola with Romar Dennis, for example, and something was happening at Denver, with Trevor Baptist, those guys weren't communicating constantly about it.

And we see the benefits of that at the pro level and what that's doing for us. Being able to bounce ideas off each other and just be there as a support system. We want to continue to talk about the history of the game and beyond, not just the sport, but in our communities. We want to be able to highlight the struggles and the successes of the game and our communities because ultimately, it's not just about lacrosse, it's about growing the communities that are struggling. And what they go through is a direct correlation as to why the game won't grow. So if we ignore that, then we're ignoring the ability for us to grow the sport.
Jules, you have a strong sense of responsibility to continue building representation into your sport. Historically, there has been a lack of diversity in lacrosse but how can we all help to change this? What specifically can companies like Mendi do to build diversity and inclusivity in lacrosse?
I believe the lack of diversity in lacrosse is a direct correlation to the issues we have at large in this country and in our predominantly black and brown communities. The struggle they face, specifically when we talk about lacrosse and the access to the sport, the culture of the sport, and the resources it really takes to play the sport. Over time, are all things that need to be addressed. Ultimately, if you don't have running water and you don't have food on your table and you don't have rides to practice, you can't play any sport. Those are things that you need to take care of and much, much more than just that.

I remember growing up that my ability to get a ride to practice or to go to a club tournament was the sole reason I was able to play the sport at the highest level, when perhaps my friend down the street couldn't. He couldn't afford it. His parents weren't around to take him to that tournament. So things like that are what we need to focus on to really grow the sport. If we can create more equity in it and opportunity for these players to get on the field and continuously stay on the field while also building the culture to the point where they feel accepted and they're not dealing with these problems consistently where they feel like they're outliers in the game.

Mendi can do a great job of supporting initiatives and supporting the black lacrosse alliance. And I know Mendi already is. There's a huge push right now by women like Megan Rapinoe and Sue Bird who are at the forefront of the conversation, and as representatives of Mendi, showing people in these communities and players that companies believe in them and want to see them succeed. And that gives you confidence as a young person to see people and companies at the highest level in sports are doing that for them.
Even with a lack of diversity in lacrosse, what drew you to the sport?
My dad grew up in Maplewood, New Jersey, and we have the second oldest club lacrosse program in the state. Initially, when you start playing lacrosse in new states, it's not a sanctioned sport. You have to start with club. So my town was with Montclair, the second oldest club program, and he was in our town when they were at their height of having athletes go to college for the sport and winning state championships and being recognized nationally for the abilities of those players.

So, he saw the beauty of the game and also invested in learning about the history of it. Lacrosse was the first sport in North America and it was the indigenous people's sport before it was anyone else's sport. That history and rich tradition, and the athletes that he saw play it like a Jim Brown, like the Ten Bears, pushed him to believe that I could do something great in the sport and have fun playing. Ultimately, that is what really put me in a position to play when I was young.
What legacy do you hope to leave both as an athlete and advocate?
I hope that I can open those doors for so many more players to feel comfortable and feel like they can do whatever they want in the sport. Whether that means playing in high school on the varsity level, getting a college degree from it, becoming the best version of themself at the pro level. I want to leave it better when I'm done playing than when I found it, but there's a lot of work to be done. I hope when I look back on my career, it is significantly better than when I first started playing.
athlete health and recovery
You're one of the deadliest attackers in the PLL, what are some specific recovery regimens that have led to your lacrosse success?
It's been an ongoing journey of figuring out what my body needs and what works for me. I've dealt with some odd injuries that have caused a lot of overcompensation and have spent a lot of my time in the weight room and in training rooms, trying to work on fixing my body, making sure things are activated and firing and making sure I'm using the right muscles and things aren't overworking.

All that stuff has led me to taking care of my body in a way that I focus on my diet and I focus on how much water I drink and I focus on preparing my body before practice and before games and taking care of it after. I think those things over time add up and create longevity and limit injuries.
Ultimately, the best attribute you can have is availability. If you can't play, you can't perform. And if you're not playing at your highest level because your body is beat up, because you're not taking care of it, then you're limiting your potential. So I think it's a no brainer to really invest in the before and after of foam rolling, stretching, focusing on things like yoga, which I'm a huge advocate for, and ultimately your diet and how much water you consume and what you're doing as far as supplements, which is a company where a company like Mendi comes in.
What are some things better recovery allows you to do besides just perform at the highest level?
I think better recovery is huge for your mental health. I think when your body feels good and you know your overall health is well, physically, then you're mentally going to feel really good and vice versa. If you're feeling really good mentally, it's going to allow you to focus on the things physically that you need to get done to feel really good.
And you're only on the field for a limited amount of time. You're off the field training and working on other things more often than you are playing, and to feel good and feel healthy and feel yourself during those times is super important for longevity in your life because ultimately you're not going to play your sport forever.
Who are some of your unsung heros?
I've had different people over my life be influential. One was the coach I had in high school who is one of the most pivotal people in my life. I transferred schools my junior year. I went to a prep school to be able to advance academically. And in lacrosse, I was fortunate enough to be able to get that opportunity because of him. I probably shouldn't have gone to the school and probably was sticking out like a sore thumb. But he really brought me in and took me under his wing. And I think that if that didn't happen and he wasn't in my life, then I would definitely not be in the position I am today.

I think Coach Nat'l today who traded for me is another unsung hero who saw something in me that perhaps other coaches didn't see. He instilled the confidence he had in me, that I've always had myself.
And there's athletes all over the country that inspire me. One in particular is LeBron James. He's someone that we talk about doing it on and off the court and being a leader. He consistently demonstrates his ability to play at the highest level and care about the things that are really meaningful to him.
What generalization do fans get wrong about pro lacrosse players?
I think that just the overall culture of lacrosse gets a bad rap. And it's kind of just how media works and what they were projecting to us as young players at the time.
But in the PLL, guys are out there to win and be the best version of themselves. And that takes work ethic and commitment to your body and your team. That is something that we are currently changing about the pro lacrosse landscape that I hope younger players are seeing.
jules' recovery gameplan
Learn more about this PLL Standout's recovery game plan. Jules breaks down his daily Mendi routine for us.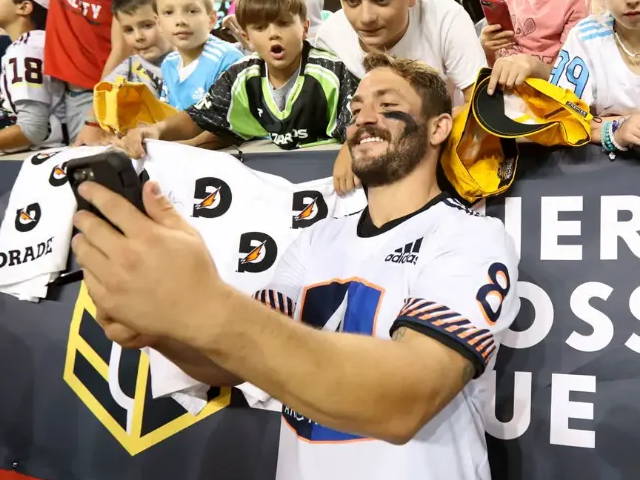 Where to watch the summer of sport
Catch up on the latest action as the NWSL, PLL, WNBA and more return.