We sat down with PLL Archer's Goalie, Adam Ghitelman to talk about his recovery gameplan, the "medicine game", secrets for young players, and the future of cannabis x sport.
A MENTAL & PHYSICAL WARRIOR
we sat down with PLL Archer's Goalie, Adam Ghitelman to talk about his recovery gameplan, the "medicine game", secrets for young players, and the future of cannabis x sport.
As Adam prepares for an unconventional PLL season, he shares his Recovery Gameplan, love of the game and the legacy he hopes to leave on the sport of lacrosse.

Adam we are excited to welcome you to the Mendi Fam. We really admire what you stand for on and off the field and love that you are seeing the positive beneifts of incorportating Mendi into your recovery gameplan. The PLL is a special league given it's player-centric focus, which includes a progressive cannabis policy that enables athletes to use products that can benefit their health and longevity in the sport.
In general, do you think it is still taboo for athletes to work with a cannabis brand or is it becoming more accepted?

I would agree that cannabis products, especially CBD products which are being sold more widespread through the country, are certainly becoming more accepted by athletes. You're seeing more and more states regulate cannabis sales as both a medicinal and recreation product. I think more people are accepting and trying it and seeing the great benefits that these products have both psychologically and physically. The more people dive in and experience these things, the more they see the benefit and start to change some of the biases around the cannabis industry.
Given the status quo of CBD being a banned substance in most professional sports leagues, the PLL has shown far more progress than most. Do you have anything to say to other professional leagues or teams who still stigmatize cannabis use for athletes?
I whole-heartedly believe in the value of CBD and THC as products for athletes, especially adults in professional leagues. I see it as a sports enhancement product for recovery. Your ability to improve sleep, reduce anxiety and all the other positive psychological benefits. I am coming to learn more by using Mendi products that the hemp-derived CBD, like the creams and tinctures, have a physical advantage for recovery. And I have loved everything that its brought to my life. I certainly think that cannabis products can help an athlete's wellbeing and ability to normalize their lives in the hectic world we live in.
ON LEVELING THE PLAYING FIELD
The Give & Go Foundation you cofoundeded with Scott Ratliff provides free lacrosse education and equipment donation for underserved lacrosse programs worldwide. What was your "aha" moment that ignited your passion for Give & Go?
Five or six years ago I had the chance to step out of my comfort zone and volunteer for a program called Fields of Growth in Kingston Jamaica. I had my first experience there volunteering and coaching and seeing the positive impact that sports, and lacrosse specifically, can have on young kids and communities. It spurred me to see how sport could provide hope and discipline and other great life lessons. It also drew me to the great partnership that travel and giving back can have together. Fast forward a few years and I had gone down to Nicaragua with Scott Ratliff. We were working with a program there where a lot of kids are living in a subsidized community which was built on a trash dump. These kids were lucky if they had a pair of shoes on their feet, but they had a lacrosse program there that kids can go to, run through the schools. So we met these kids and saw the beauty sport can have all over the world. After that I distinctly remember sitting with Scott and looking at each other and saying that this was something we wanted to make a part of our life's work and within a year we founded the Give & Go Foundation. We have been blessed enough over the past few years to really support a lot of programs and raise money that we can give back to the game, including programs that create sustainability and provide equipment that is hard to get outside the US. It's been a real blessing and allows us to travel and see the game in other parts of the world.
There is a core belief in you that lacrosse, specifically organized lacrosse teams have the power to heal and help lacrosse communities grow closer together. Can you tell us more specifically how you've seen this?
I've seen this in a lot of ways. Looking back to the Give & Go foundation that's a perfect example of providing stability to young kids in Nicaragua. These programs give them something to be accountable and responsible for. It allows them to think of their friends and the people in their community as part of their team. I've had the chance to travel to a lot of places and you see the unique community that lacrosse has, in the grand scheme of things it's still a growing sport, especially outside of the US. What you come to find is the personalities drawn to lacrosse are often outgoing as it's a social sport. And the people who play lacrosse want to support each other. You come in contact with someone anywhere in the world and they play lacrosse you already have this connection. People want to help each other and see the sport grow because they believe in the beauty of the game and its roots in Native American culture and how it does bring a unique community feel when you see it. The more and more I have the chance to travel and see how lacrosse can be used as the "medicine game" as its called, the more I believe in it and want to see it continue to grow. Having the Give & Go foundation has been a big part of that. The community within itself is just a unique thing and I'm so glad to be a part of it.
What are some words of advice you'd give to your younger self, first entering the sport of lacrosse?
The first is that lacrosse is a great combination of many different sports. You have a lot of the elements of soccer, the defensive and offensive motions of basketball, the stick handling and hand eye skill of hockey and many other sports. And lacrosse can sometimes become a very specialized sport. My advice is to play as many sports as you can. The skills that you can gain from having experience playing all those other sports can really pay off within the game of lacrosse. Because you need to be agile, quick, powerful, have endurance etc. You have to have this general athletic IQ that can only be developed by playing other sports, if you really want to become great. You can have lacrosse IQ but to have athletic IQ combined with lacrosse IQ can be great for a young player.
The second pieces of advice that I have would be to really explore the concepts of mindfulness, meditation, yoga and tools that lend their hand in life and creating presence and ability to stay in the moment. They can help psychologically for many people when you practice those things to support any negative feelings of anxiety or depression. These are also great tools in sports. In our sport, it is so high flying and spontaneous. So many things can happen and there isn't a player out there, even at a pro level that is going to play a perfect game. And your ability to bounce back from mistakes and stay calm in pressure moments is crucial. And lastly even when things are great, not looking ahead or just focusing on the outcome, but staying in the moment can be really beneficial for young players to explore early on in their career.
What legacy do you hope to leave both as an athlete and advocate?
I would love to leave an impact that inspires others to continue to grow the game in an organic and positive way. I just hope to leave a positive impact on the next generation. Provide them with education and motivation to be great at what they do and be great people. To give back and see the positive benefits of how giving back to others can benefit you.
And then I think as a player I want to be the best. I want to be someone who worked really hard, a selfless teammate who played tough and also impacted the position and innovated the position. I want to change the way that people look at the goalie position. Not just someone who blocks and makes saves, but someone who can make an impact on the field as an offensive threat and make plays outside the cage.
ON RECOVERY AND ATHLETE HEALTH
What are some specific recovery regimens that have led to your lacrosse success?
So for me besides training to be a great lacrosse player with on-field specific stuff, I really value cross-training. I really believe in using multiple methods of training including strength and conditioning, speed and agility etc. Also for me, recovery regimens really matter and I would point directly to yoga, and general flexibility. That has been probably the greatest addition to my training and recovery for the past 6-7 years. And besides that I do believe in traditional ice baths, post workout stretching and nutrition and sleep, which are some of the most important things you can control.
Since using Mendi products I'm seeing the value of CBD. Prior I was just using THC products like cannabis flour or other edibles. I've never truly experimented with creams and now i'm seeing the tremendous benefit that can have for me. Not just what it does for my muscles physically, for my ability to recover quicker, but also it has aided my general psychological wellbeing. Reducing stress, anxiety and again by supporting my sleep habits. I'm waking up well rested. I'm not waking up as much through the night. I'm clear headed, not achey and it allows me to pop out of bed and into my day, rather than losing time.
What measurable ways (i.e. Whoop, HRV, FF90, etc.) have you found CBD/cannabis to help you?
Well I know that I am feeling in shape, I'm achieving my goals for my workout program consistently. It has been great for my confidence and allowing me to feel even more confident moving into the next workout.
What is the future for cannabis x sport?
For me, the more that people experiment and try these products, the more they understand how valuable of a resource they can be. Again, the physical recovery, the mental health components, the ability to gain more sleep and be more well rested makes it a great solution for athletes who want to perform at the highest level. So many of us, especially through our playing season, are so busy and we're always training, we burn a lot of energy and it can be hard to sit down, relax and recover. I'm glad to be in a league that allows me to choose the recovery method that works best for me.
You're seeing more and more leagues realize that marijuana and cannabis products can be good for athletes. As long as it is taken in moderation, it is a product that can support health and wellbeing and recovery. All the things that we are looking to provide athletes with to give them the chance to be successful for a long time.
YOUR ABILITY TO RECOVER IS WHAT ALLOWS YOU TO BE CONSISTENT."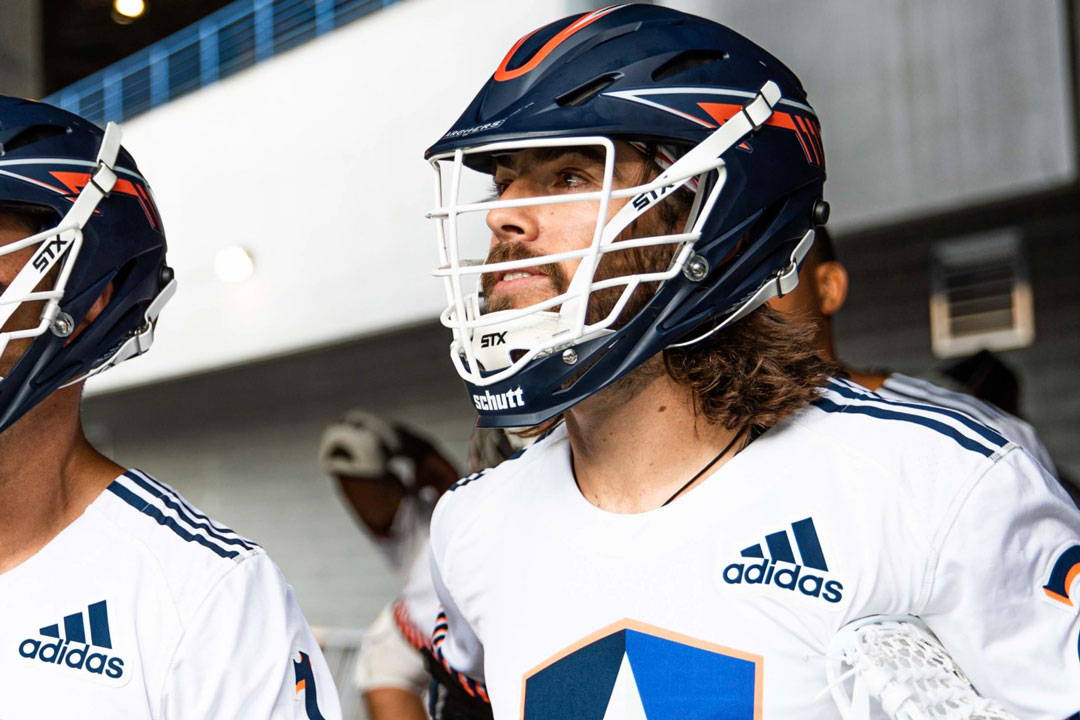 Meet Scott Ratliff
All-star both on an off the field winning championships and humanitarian props as the 2018 Man of the Year.